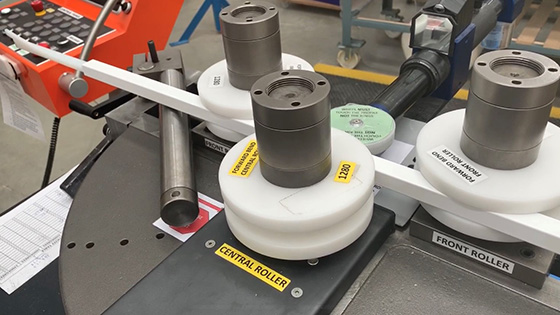 With bay windows, it can be tricky to get curtain poles that fit properly. People often have lots of short poles or try to bend tracks themselves at home. The problem is, the sort of DIY products you can buy are designed to be flimsy so they can be bent easily. That means they're not very strong and may not last, especially with heavy curtains. Angle joints are available to join sections together, but these are very difficult for curtain rings to pass and mean the curtains can't be drawn smoothly.
For high quality custom curtain poles, you need to start with a robust product and use technology, expertise and experience to bend it to the right shape. While that's not something you can do at home, it's easy to order bespoke products through our website.
Here's how we make up your design.
https://www.youtube.com/watch?v=TFHaPEY6ieQ
Once we've got your order and the measurements of your bay, we feed the dimensions into our software and draw up a full-size plan of your window. This means we can check everything looks right before we start. We then cut the pole to length, lay it over the plan and mark the pole at the exact points the bends need to start and finish. The software makes allowances for the brackets so the pole will project from the wall and fit perfectly when the brackets are in place.
Once this preparatory work is done, we use our specialist machines to bend the poles. These use computer technology to make sure all the bends and curves are correct, with the exact radius and angle that's required. As these are professional quality machines, they exert enough force to shape durable stainless steel poles.
When the product comes out of the machine, we lay it back over the plan to check it fits. We then add the finials, rings and brackets you've ordered, package everything up and send it over to you along with the full scale diagram the pole has been bent to. With everything so carefully checked, manufactured and packed, you can be sure your pole will be a perfect fit.
It doesn't matter if your bay is round, square or has lots of funny angles, we can make a pole that fits. For more information on our packaging and customer service, take a look at our previous post, or contact us for advice.