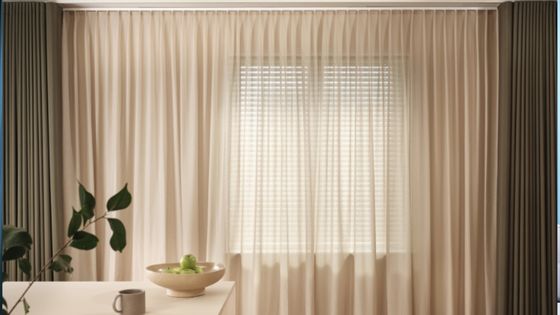 If you're looking to add a touch of luxury and convenience to your home, the Silent Gliss 5100 Autoglide electric curtain track system might be just what you need. This motorised curtain track offers a seamless and customisable solution to operate your curtains automatically, all while maintaining the renowned quality associated with Silent Gliss products.
Tailored to Perfection
One of the standout features of the Silent Gliss 5100 Autoglide is its ability to be made to your exact length, ensuring a perfect fit for your windows. This made-to-measure motorised curtain track comes with a reassuring 5-year manufacturer's warranty and includes brackets, gliders, and a fittings pack for easy installation.
Adaptable for Bay Windows
No need to worry about complex bay window arrangements; the Silent Gliss 5100 Autoglide can be bent to suit bay window requirements. This versatility ensures that even uniquely shaped windows can enjoy the benefits of this electric curtain track system.
Intuitive Operation
The 5100 Autoglide series offers four models:
Basic
Remote Control
Timer
Total Control (which combines timer functionality and remote control).
All models come with a magnetic wall switch for added convenience. The "Touch and Go" feature, available on all models, allows you to simply pull the curtain, and it will automatically open or close. Plus, these curtain tracks are equipped with a manual override feature to ensure smooth operation in case of a power failure.
Sleek and Discreet Design
The Silent Gliss 5100 Autoglide features a slim motor designed to be concealed by the curtain. You can specify which side of the track you'd like the motor on and how the curtains should draw, whether as a pair, stack, or single stack. The tracks are a standalone item and can be operated by a standard 3-pin socket, ensuring a quick and hassle-free installation.
Perfect for the Wave Heading System
If you prefer the wave heading system for your curtains, the Silent Gliss 5100 Autoglide is a perfect fit. The wave gliders are evenly spaced 80mm apart, creating a neat fold on your curtains for a stylish finish.
Trustworthy Brands
Silent Gliss Autoglide is a well-known name in the motorised curtain track industry, offering a budget-friendly solution without compromising on quality. The Autoglide electric curtain track is available in four options: Switch Operated, Radio Remote Handset Control, Timer, and Switch or Total Control with Timer and Radio Remote Handset. All models feature a manual override and the convenient "touch and go" system.
Additional Features
The Silent Gliss 5100 Autoglide Electric Curtain Track comes with some impressive additional features:
A built-in radio receiver in the motor, eliminating the need for a visible relay or sensor.
All controls are wireless, providing a clutter-free setup.
Soft start and close feature for smooth curtain operation.
Options for top-fixing to the ceiling or wall with various brackets.
Compatibility with the wave curtain heading system for a modern, minimal style.
No need for an electrician; the Autoglide electric curtain track plugs into a standard mains socket.
Enhanced Security
One benefit of an electric curtain track is enhanced security. It can close your curtains when you're away, creating the illusion that someone is at home, thus deterring potential intruders.
The Silent Gliss 5100 Autoglide Electric Curtain Track brings together the best of both worlds: cost-effective functionality and high-quality innovation. It's a smart choice for those seeking a hassle-free and stylish solution for their curtains.
So, whether you're looking to upgrade your home's curtain system or seeking convenience in your daily life, the Silent Gliss 5100 Autoglide Electric Curtain Track is worth considering. It's a seamless and reliable solution that brings a touch of luxury to your living space.