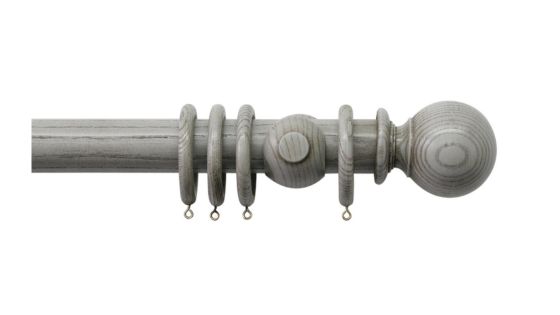 Are you on the lookout for a touch of sophistication and natural beauty to enhance your home? Look no further than the Jones Oakham 50mm Handcrafted Wooden Curtain Poles. These solid ash curtain poles epitomise craftsmanship and elegance, making them the ideal choice for your interior decor.
Colour Options
One of the outstanding features of the Jones Oakham collection is the meticulous handcrafting process. Each pole is stained and polished by hand, revealing the natural grain of the wood. The result is a stunning range of finishes, ranging from light to mid to dark tones, with options like grey and white wood to harmonize with your decor. This attention to detail ensures that every component comes to life with a unique, natural look, creating a truly sophisticated atmosphere in your home.
The Oakham 50mm Curtain Pole comes in 7 colours; Dove, Honey, Light Oak, Medium Oak, Truffle, Tusk and Wenge.
Finial Choices
The Oakham range comes with a choice of two finials - a Cone or Ball.
What's in the box when you purchase a Jones Oakham 50mm Pole?
When you purchase the Jones Oakham 50mm Curtain Pole, it comes with 2 finials, brackets, and rings. You can choose between wooden or metal brackets on the product page here.
Installation and Usage:
The Jones Oakham curtain poles are designed for ease of installation. For lengths over 300cm, the pole is supplied in two halves with a hidden joining screw and a centre bracket for support.
They are suitable for heavy-weight curtains, making them a perfect choice for tall ceilings, extra-wide windows, and heavy fabrics. Floor-length, interlined curtains pair exceptionally well with the wide 50mm diameter of this pole, creating an opulent yet well-proportioned look.
Curtain Headings:
Consider double or triple pinch pleat curtain headings for a truly luxurious window dressing. A double pinch pleat offers a modern look, while a triple pinch pleat delivers a timeless and opulent style that complements the Jones Oakham curtain poles beautifully.
The Jones Oakham 50mm Handcrafted Wooden Curtain Poles offer a unique blend of natural beauty, craftsmanship, and customisation options for your home decor. Whether you prefer a modern or timeless look, these poles are designed to enhance your space. Embrace the elegance and sophistication of handcrafted wooden curtain poles and elevate your interior design.
If you have any futher questions please dont hesitate to get in touch!