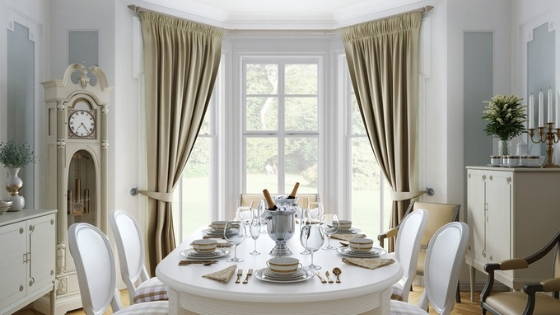 Heavy curtain poles are becoming more relevant. Windows are becoming larger and bi-fold doors are becoming increasingly popular. There are so many different brands out in the market that choosing the right one for your windows can be mind-boggling.
How do I choose the right one for my curtains? Which brand do I choose? Which design will look best with my interiors?
We may not sell all the brands below, and some of the suppliers listed are direct competitors to us but our number one priority is to provide you with the information you will need to make an informed decision. We want to ensure our customers make the right informed choice for their home and ultimately are not disappointed in their final product. We have put together what we believe is
the top 5 ranges of heavy curtain poles in the market which you can buy online today:-
The Silent Gliss Metropole range is available in 30mm and 50mm diameter poles. They are also available in hand-drawn, corded, or electric operation options and can be bent for bay windows. The Silent Gliss Metropole operates with gliders rather than rings, therefore, more suited to heavy curtains and can take a tremendous amount of weight, enough to suit any barn conversion or bi-fold door. For additional easy of operation, roller gliders are available to ensure the smooth running of those interlined or blackout lined curtains. The Silent Gliss Metropole range is not the cheapest pole in the market but is value for money when looking for a heavy curtain pole, its colour range and the versatility makes it ideal for most living spaces. This is the best option for bay windows hands down no competition.
If you are looking for a more traditional curtain pole then the best value for money pole is the Bradbury Pole. It's unique brackets mean the rings do not interfere with the running of the curtain, unlike a lot of other poles that have rings and passing brackets. The Bradbury Pole can be bent for a bay window and can hold a significant curtain weight of over 20kg. The only drawback to the Bradbury Pole is that it is only available in stainless steel and does not come in any other colour ranges.
If you are looking for a heavy wood curtain pole then the Byron & Byron range is fantastic. The range of products is extensive with a great many of them suitable for heavy curtains.
Byron and Byron also have a colour range of poles that dwarfs most other wood ranges in the market. Byron & Byron and known for their beautiful designs, unique colour options – whether you are looking for ornate traditional poles or modern design lead pole, then it is worth checking out their extensive stunning range. The only drawback to the Byron and Byron range is like most wooden curtain poles they cannot be bent for bay windows. When selecting a wooden pole diameter is key to strength - the larger the diameter, the stronger the pole.
The Oakham, Hardwick & Seychelles ranges make a more cost-effective alternative to a heavy wooden curtain pole from Byron & Byron. The Oakham is a 50mm diameter pole available in eight traditional wood finishes. The Hardwick pole is a 40mm diameter pole, available in four traditional colours and Seychelles has a softer palette of pastel colours. All these wood poles are suitable for heavy curtains.
If you are looking for wrought iron pole, then The Bradley Collection is ideal. Suitable for heavy curtains and available in a range of styles and finishes. The drawback to the Bradley Collection is the price which, for most of their ranges, start high, and the fact they are not available online and only sold through department stores, retail shops, and interior designers.
Whatever the size or shape of your bay window, our specialist expertise and equipment can cater to your needs and deliver the perfect fit. For more information or further advice on choosing the right pole for your home, get in touch today.