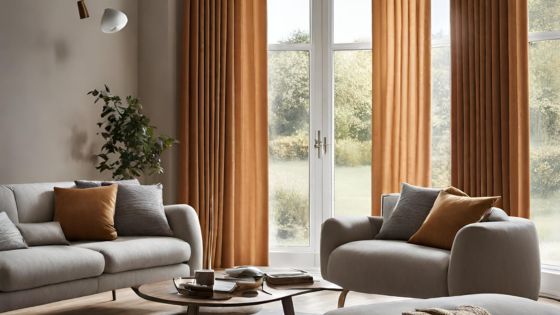 Are you searching for a chic and contemporary window treatment that seamlessly complements any interior? Look no further than wave curtains! These stylish and minimalist curtais have taken the design world by storm, and we're here to guide you through everything you need to know about them.
What Sets Wave Curtains Apart?
Wave curtains feature a unique design, pioneered by Silent Gliss. This trademarked curtain system utilises a modern alternative to traditional headings, guiding the curtains along special tracks to create a uniform, rippling effect. Unlike conventional curtain poles or tracks, wave curtains, when drawn back, avoid the unsightly bunched appearance.
How Do Wave Curtains Achieve Their Distinctive Look?
The secret lies in the specially designed wave curtain header, which gathers the curtain material into even, flowing folds. This innovative approach ensures a sleek and minimalist effect, making wave curtains ideal for both modern interiors and traditional decor. The accompanying wave curtain tracks maximize the entry of natural light, a perfect solution for spaces where daylight is a premium.
Choosing the Right Fabric for Your Wave Curtains
Not all fabrics are created equal when it comes to wave curtains. To achieve the desired wave pattern, it's crucial to select materials that drape well and follow the contours of the tracks. Heavy or stiff fabrics may not be suitable, while cotton, voile, and certain silks are excellent choices. Testing your fabric by holding it in a wave pattern will help you determine its compatibility.
Wave curtains, with their even and uniform fall, provide an excellent canvas for showcasing repeating patterns to their best effect.
Calculating the Fabric Requirement
Precision is key when it comes to fabric measurements for wave curtains. Generally, you'll need between 2 and 2.5 times the area of your window. However, it's advisable to consult the curtain track specifications for accurate guidance.
Popular Choices in Wave Curtains
When it comes to spacing between each glider, wave curtains offer flexibility. The 80mm spacing is the most popular, creating a larger, more pronounced wave effect in the fabric.
Selecting the Right Track
Choosing the perfect wave curtain track is a matter of personal preference. For those considering wave-headed curtains as room dividers, the Silent Gliss 3840 is an excellent choice. It boasts consistency on both sides, and its top fix bracket is discreetly hidden by the track.
Got Specific Questions about Wave Curtains?
Our experts are here to address your queries and help you make the best choices for your home. Feel free to reach out to us by filling in our Wave Curtain enquiry form contacting our sales team on.