Wave Curtains
Installing a Wave curtain track system ensures your curtains hang perfectly and make a stunning statement in any room. Created by Silent Gliss, Wave curtains step away from tradition and bring a more innovative, contemporary style.
A Wave curtain track works to create a flowing effect in the fabric of the curtain. This is achieved through a specially designed heading tape and a Wave glider-cord, allowing the fabric to hang in a certain way. With thorough testing, Silent Gliss only recommend the fabrics that work best with this system, ensuring impeccable results.
For more information and advice, fill out our enquiry form or contact us today.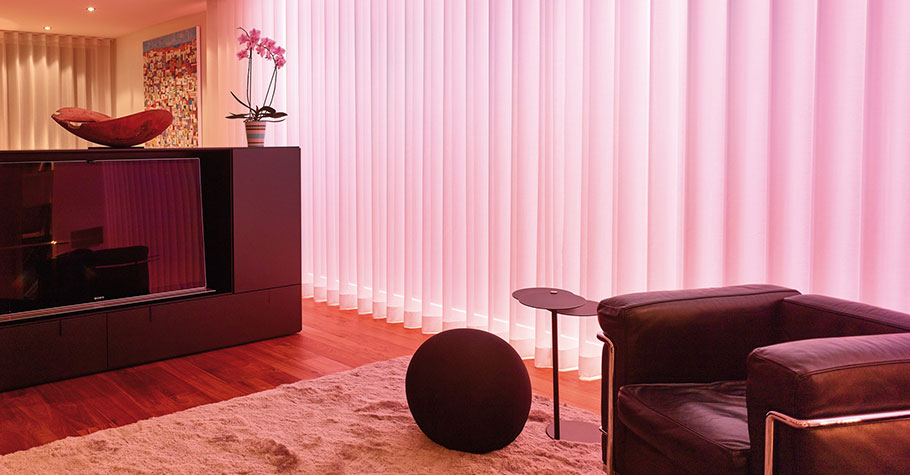 Why choose Wave curtains?
Wave headed curtains are a smart, stylish addition to your home with many benefits:
Suited to any interior design.
Maintain a structured form throughout drop.
Minimalist in appearance.
Reduced curtain stack depth.
Can be installed with pelmets.
Can be made in continuous fabric width when using the Silent Gliss fabrics, creating a seamless finish.
Made to measure Wave curtains
Made to measure, we can guarantee that your Wave curtains will slot right into the desired space in your home.
For optimum performance, Wave curtains should be installed with a Silent Gliss Wave track. Wave curtains are compatible with the 3840, 5100, 5600, 6130, 6120, 6100, 6140, 6160, 6150 and 6243 products, in conjunction with the 60mm or 80mm pitch Wave glider.
Selecting the right colour and fabric
Our Wave curtains are available in a variety of colours and fabrics so you can match your curtains to the colour scheme and décor of your home.
All tested and approved by Silent Gliss, the weave and texture of the fabric is specially selected based on how they hold the shape of the wave in the drop of the curtain. Sourcing fabric from other manufacturers isn't recommended as they may not fit in as well with the Wave track system and therefore, not hang right.
Silent Gliss Colorama range
The Colorama range from Silent Gliss offers multiple colour and fabric options, to suit everyone.
The fabric range, in particular, is designed to provide soft, uniform waves and a seamless appearance.
There are two types of Colorama fabrics, 1 and 2. Colorama 1 is a more sheer fabric, acting as a voile or net curtain. Whereas, Colorama 2, is thicker. This is best for creating a lining inside your curtain or for blackout purposes.
---
Please note: Every reasonable care has been taken to accurately represent product colours, however slight variations may occur due to different screen settings, shading differences between batches, and the nature of the photographic process. Colour samples may be available on request.
Pricing Guide
We've created a table to provide an estimate of Wave curtain prices at a glance. Find out how much your Wave curtains will cost below, depending on your width and drop requirements:
Colorama 1
Width >

150cm
200cm
250cm
300cm
350cm
400cm
450cm
500cm
< Width
Drop:
Drop:
Up to
300cm
£401.11
£534.81
£668.52
£802.21
£935.93
£1,069.62
£1,203.32
£,1337.03
Up to
300cm
301 to
350cm
£601.00
£802.21
£1,003.43
£1,204.64
£1,405.86
1,607.08
£1,808.29
£2,009.51
301 to
350cm
351 to
400cm
£691.02
£922.69
£1,154.34
£1,386.01
£1,617.67
£1,849.33
£2,080.99
£2,312.66
351 to
400cm
Colorama 2
Width >

150cm
200cm
250cm
300cm
350cm
400cm
450cm
500cm
< Width
Drop:
Drop:
Up to
300cm
£550.69
£733.38
£916.06
£1,098.74
£1,281.43
£1,464.11
£1,646.80
£1,829.47
Up to
300cm
301 to
350cm
£826.04
£1,100.08
£1,374.10
£1,648.12
£1,922.14
£2,196.17
£2,470.19
£2,744.22
301 to
350cm
351 to
400cm
£950.48
£1,265.54
£1,580.60
£1895.66
£2,210.72
£2,525.78
£2,840.84
£3,155.90
351 to
400cm
To obtain further information and a detailed quote for your made to measure Wave curtains, submit the enquiry form below and a member of our friendly team will get in touch.