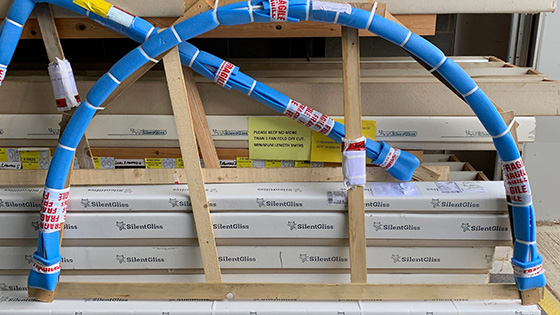 We live in a busy, complex world, so it's no surprise more and more people are turning to the simple things in life. Trying to live more healthily, being a little more self-sufficient, doing your bit for the environment – it all helps. And our homes are reflecting this trend. Whether your home is old or new, having surroundings that are spacious, light and eco friendly is really important.
We recently moved into a new factory, and when we were deciding where to go, it was the simple things we looked for.
Read on to find out why.
Space
When you're moving, the first thing to consider is the space. In our case, this was the most important issue. We manufacture (and supply) curtain tracks and poles, and they can be quite unwieldy at times: they're long and often bent into complicated shapes. The main attraction of the new factory is the fact it's open plan, with a ceiling height of 12m. We can move the curtain poles around with ease and there's more room for us to bend bespoke pieces.
This need for space also came from the fact our business is growing. Larger premises mean we can handle more orders, more efficiently.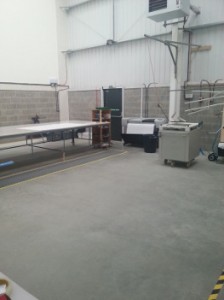 Light
We make curtain rails and accessories, so you can be sure we know the importance of natural light. It's essential so you can see what you're working on clearly, and sunlight helps improve your mood. The new factory has a very light and airy feel, as you can see from the photos.
Of course, the ability to control the amount of light coming in is important, too. We're in the process of installing blinds and an electric curtain track in our showroom for this very reason. As you probably know, electric tracks are great as they can be set to open and close automatically, using a timer or light sensor.
Green credentials
Another advantage of our new building is that it's really environmentally friendly. It's made from a special cladding that is designed to let air into a gap and trap it. This air is then warmed by the sun, which in turn heats the building and helps maintain a stable temperature. We also store rainwater which is recycled to flush the toilets. This helps us keep costs down and means our products have a smaller carbon footprint than they did before.
You could also argue that buying a good quality curtain pole from us is better for the environment than buying a cheap DIY product. Our bespoke tracks and rails last for years, whereas cheaper versions from hardware stores need replacing more often. That means more waste, and in the long term, more expense.
Having curtains in itself can be good for the environment – they help keep the heat in in winter, and can shade you from the hot sun in summer.
Moving the curtain poles
We make some pretty high tech equipment here, so you might be surprised by one of the most useful gadgets in the new factory. It's a board covered with wooden pegs. We call it a 'tug pull', and it allows us to move bay window curtain poles and custom tracks easily.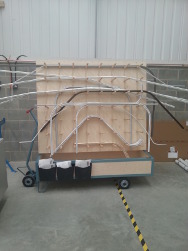 If you're moving into a new home, you might consider a home automation system to bring all your technology together. If you do, don't forget to include some electric curtains.
Our new factory means our service is better than ever. If you're looking for a custom curtain rod, take a look around the website or get in touch.