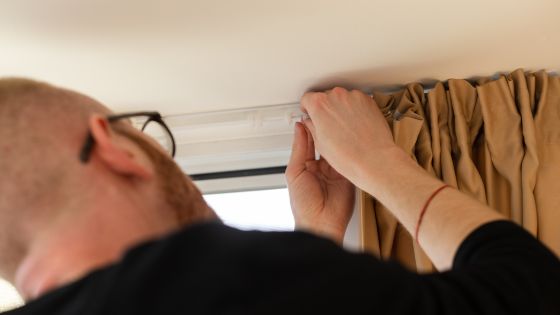 Curtains don't have to be hung on wall-mounted tracks or poles. Systems that fix to ceilings instead can make a huge difference to how curtains look, adding a sense of height and drama. Discreet top-fix curtain tracks are also a practical solution if, for example, there's little or no wall space above a window. Check out these rooms that have all been elevated by a ceiling-mounted curtain track. In this blog post we explorerthe adevantages to using a cerilling mounted curtain track to hang your curtains.
1. Height and Drama: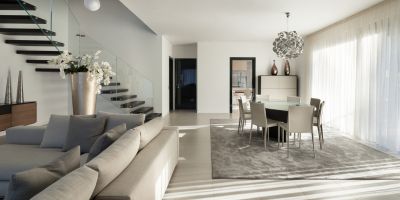 Ceiling-mounted curtain tracks add a touch of drama to any room. By fixing the curtains to the ceiling, you create the illusion of height, making the space feel grander and more impressive. This design choice is perfect for rooms with high ceilings or for those seeking a more dramatic effect in their interior.
2. Space-Saving Solution: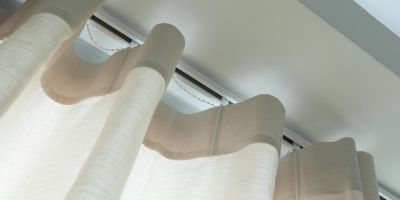 In situations where wall space is limited or non-existent above a window, discreet top-fix curtain tracks come to the rescue. These tracks eliminate the need for wall-mounted brackets or poles, making them a practical choice for compact spaces.
3. Cosy Comfort:
Having a large window can make rooms feel and look chilly, especially in winter. In this bedroom, the long, ceiling-hung curtains save the day, helping the whole space seem extra snug by covering a large area.
Choose a curtain colour that blends with your scheme, but won't dominate too much when fully closed. Here, the mid-grey coordinates beautifully with the bedside tables and throw.
4. Ideal for Wide Windows: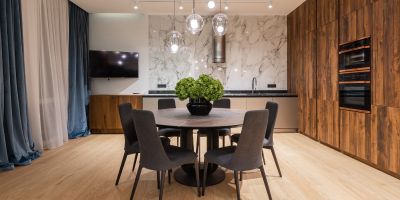 Ceiling-mounted tracks are a smart solution for a wide, short window, as it helps to lengthen the space and creates an illusion of height. In this calm, neutral bedroom, the window initially feels much larger than it really is.
Unless you're going for a dark and dramatic look, light curtains are a good choice in smaller rooms, as they help 'open' things up.
5. Versatility with Flexible Tracks: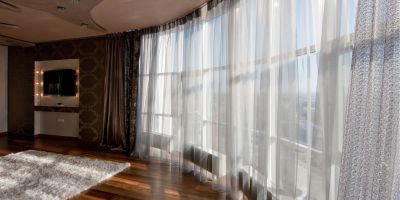 Look for a flexible system or bendable track, so you can tailor it to the dimensions and shape of your window. Think about whether you want to fit DIY rails yourself, which you can often also bend, or whether you'd feel happier getting a professional curtain specialist to do it for you – it will be pricier, but may be worth it if your window arrangement is complicated.
Always double-check what's possible, and how much weight tracks can support, before committing to buying.
6. Modern and Minimalist: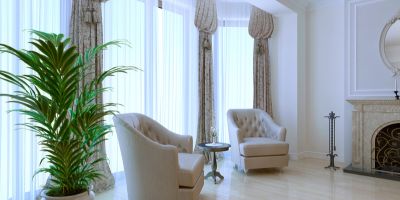 A pair of curtains mounted on a pole above the window can change the whole feel of a room, sometimes giving it a more old-fashioned mood. As it stands, the ceiling-mounted system offers all the softness of curtains in a modern, clean way giving them a more of a modern an sleek look.
7. Neat and Discreet:
Top-fix curtain tracks work particularly well in rooms with large windows. If you have a recess above, it means your track can be tucked out of sight for a neat finish.
8. Elegance in Period Rooms: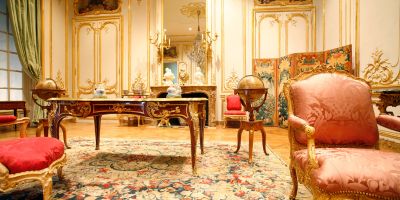 While curtains add softness and a timeless feel to period rooms, bunched up fabric and fussy poles and finials can sometimes tip them into fustiness. A super-simple, ceiling-mounted rail sidesteps this problem, helping material to fall in elegant lines with minimal fuss. These curtains really help to show off the lovely panelled period windows in this room.
Ceiling-mounted curtain tracks are a versatile and stylish choice for enhancing your interior design. They add drama, save space, and offer a modern aesthetic while maintaining functionality. Whether you have large windows or unique window shapes, these tracks can elevate your curtains and your living space to a whole new level of sophistication.
Our team are always on hand to help with any queries you might have so if you have any questions, please dont hesitate to give the team a call on 01494 460198.