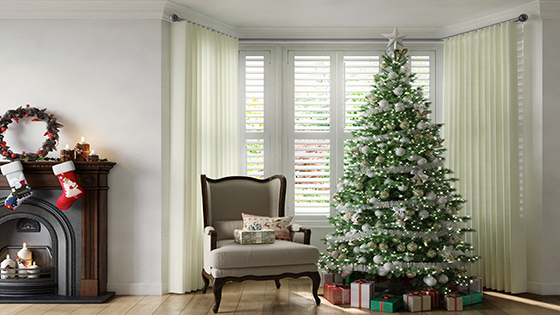 Christmas is brilliant, but it always seems to sneak up on you. October time we complain it's too early to even contemplate, then before you know it you've got a week left, millions of presents to buy and your elderly grandma is coming to stay.
Getting the spare room prepared for visitors is a necessary chore, but it needn't be time consuming or expensive. A new curtain rail, a lick of paint and removing the clutter will make your loved ones feel even more at home.
Declutter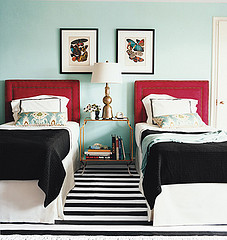 Unless you're fastidiously house proud or have acres of storage space, your spare room has probably collected a lot of junk since last year. As well as old packaging, unwanted gifts and unused gym equipment, it's probably full of boxes of Christmas decorations you've just got down from the loft.
Even if you don't have anyone coming to stay, a pre-Christmas clearout is a great idea. You'll have presents to find homes for, so go through your old stuff and get rid of things you no longer want or need. They can go to the charity shop or you can pop them on eBay and make some money.
As well as being good for the soul, decluttering means your elderly relatives won't fall over anything in the dark.
Update the Curtain Rail
Nothing lifts a room as quickly and cheaply as putting up a new curtain pole, especially if the old one is past its prime. Poles hanging off the wall aren't safe, and basic designs are difficult for granny to open and close. Consider a corded or electric track instead. Corded tracks have a nylon pull cord so the curtains can be drawn without having to reach upwards, and electric versions can be operated at the push of a button or with a timer or light sensor.
Corded curtain tracks are also great for kids if they have trouble closing the curtains from the top. It's important that the cords are safe though, which is why we give free safety devices to all our customers. You can order online for convenience and get the job done in no time.
A Lick of Paint
Another cheap way to brighten up the place is to give it a new coat of paint. If you've only got a day or two before Christmas you might want to give it a miss (the fumes will linger), but if you've got more time paint will cover dirty marks and inject some colour into your decor. Soft duck egg blues, sage greens and oatmeal colours are all great options for guest bedrooms as you need a palette which will please a variety of people.
Decorations
It's Christmas, so don't forget to add some festive cheer. Paper chains, tinsel, fairy lights and a wreath on the door can all make your guest room feel homely and welcoming. Whoever's coming to stay this Christmas, make sure they get the best possible welcome.
Treat your home and your guests to a new curtain track this Christmas. Our electric curtain tracks and corded rails are perfect for adding a touch of glamour to your home, and make it easy to open and close the drapes.
Image courtesy of ...love Maegan (Flickr)